Customer Reviews
11/14/2020
Emma
United States
I recommend this product
Transparency
I've been eyeing this dress for a while and so I got excited when I saw that it finally made it to the sale section! There is a deal going on now, but it's only the $15 off if you spend $119 and $25 off if you spend $199. It's a nice deal that averages about a 12-13% discount. That being said, don't let the percentage discount of the sale's section persuade you because it's fake. As you can see from this screenshot, this dress used to be priced for $99.99 with a $30 discount in October. This left it at $69.99 which is the same price it is selling for right now which is supposedly a 70% discount from the whole price they have listed at $233.99. Summing it up, it's always been $69.99. I'm sure this is a great dress but would prefer that this be site be honest about their pricing. If you plan to get this, make sure you get at least $119 worth of items so that you can get an actual discount. :) Hope this helps!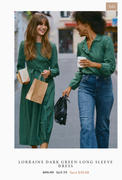 11/04/2020
Fay
Australia
I recommend this product
Stunningly comfortable
This dress is comfortable and gorgeous. The style is feminist with a twist of urban chic look. I bought size L, as I am usually UK10-12. The value of money is worthwhile. Suitable for day or night, with the right accessories. I wish for navy blue!!.